Innerlife STS | Equine Therapy
"When the halters come off, the truth comes out."  - Pat Parelli
Healing Horses Transform Victims of Domestic Violence
Rainey Sealey Temkin
Larry E. Beutler
Jamie L. Beutler
Samarea Lenore
As horse enthusiasts, we have a deep and clear understanding of the healing value of our relationship with horses, and many times will notice how certain lessons we learn from our beloved equines often benefit and impact our human relationships.  Is it possible for these lessons, or principles of how we relate to our horses, to be translated and applied to human relationships?  Or, more specifically, can the experience of learning these equine-based principles, in a therapeutic setting, transform the lives of female victims of domestic abuse?
Dr. Larry Beutler, a leader in the field of psychotherapy research, has taken a lifetime of experience as a clinical psychologist/psychotherapist in which he has been on the forefront of identifying principles that guide effective psychotherapeutic practice, and created a program for victims of domestic abuse.  Dr. Beutler, integrating his knowledge of psychotherapy with what he has learned in over two and a half decades as a Parelli student, is currently teaching specific equine-based principles of change and growth to small groups of abused women on his ranch in Placerville, California.  These principles are brought to life using interactions with horses from his ranch, and are proving instrumental in transforming their lives and instilling hope for the future.
The Innerlife STS System is a cloud-based platform for Treatment Reports, Analytics, Outcome Tracking, and Documentation for mental health care. Innerlife STS creates and composes conceptualized narratives and builds them into professional-grade reports. These reports are designed for use by primary care physicians, mental health clinicians, and justice system professionals and include Mental Health Assessment Reports, Mental Health Treatment Reports, and Forensic Evaluation Reports.
Connect with Innerlife STS on Linked-in by clicking on our logo below.
On a serene ranch two hours northeast of San Francisco, five horses play together in the arena as Dr. Beutler, his wife Jamie, and doctoral student Samarea Lenore, prepare for the day.  Later this morning, five women, all relatively unfamiliar with horses, will arrive at the ranch, currently in the fourth week of a ten-week program designed to inspire and empower them; and most importantly, to demonstrate how they can reclaim their lives and develop healthy relationships free of fear. 
The inspiration for Dr. and Mrs. Beutler's program occurred in 2009, while Dr. Beutler was working with fifteen Ph.D. students who were enrolled in his Introduction to Psychotherapy course.  Subsequently, he introduced them to the prey animal / predator relationship between horses and humans and invited them to come to his ranch and play with his horses.  Students, all of whom hoped to become psychotherapists, learned to identify non-verbal equine cues that revealed each individual horse's "horsenality" and attitudes, using methods developed by Pat and Linda Parelli.  Following this exercise, students were encouraged to draw parallels between horse behavior and client behavior then naturally between psychotherapy and horse handling.  
Students came out of the day-long program recognizing that resistance was just another word for the trainer/therapist's failure both to understand the equine "Patient's" language and to apply an inherently fair and loving environment to the role of "herd leader."  From his more than 40 years of research on psychotherapy, he extracted a set of principles that had been proven, scientifically, to optimize change in behavioral health patients.  Each of these had a parallel in the sayings that had emerged in his experience as a student and past instructor with natural horsemanship.   The result was a set of three sets of parallel strategies (i.e., principles), each compromised of a principle that had been used to guide effective psychotherapy and the other a behavioral change principle derived from the sayings that characterize Natural Horsemanship (PNH). 
The word "principle", in this context, was defined as the articulation of a strategy for producing intended change and is to be distinguished from Parelli's 8 principles of natural horsemanship which articulate the philosophy and aims of PNH.  This early work became the framework for developing his current program for women survivors of domestic violence, which now uses four optimizing principles, translated from PNH and applied to human behavioral change. 
Women who start Dr. Beutler's program commit to ten sessions, once weekly, in small groups of four or five.  Each are assigned their own horse, which remains consistent throughout the ten weeks to help foster feelings of attachment and bonding.  Many of these horses have been rescuded frombackgrounds of abuse and neglect by Dr. Beutler and his wife, Jamie, and then nurtured back to health with a renewed trust in human contact. 
On a cold Wednesday morning in December, five women arrive, meet in a small circle with Dr. Beutler, Jamie, and Samarea.  They check in about the previous week, and speak candidly about how they were able to apply lessons learned from the past session into their day-to-day lives.  The ranch dogs mingle between participants for affection, and the horses frolic in the arena behind the group.  As the sun begins to warm up dogs, horses, and humans, these women share the various ways the Beutlers' program has impacted the quality of their human relationships and their ability to set interpersonal boundaries.  After the group has shared their progress and reconnected with other group members, the leaders direct the women to halter their horses and begin the exercises for the morning. 
Connect with Innerlife STS on Linked-in by clicking on our logo below.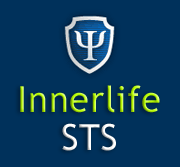 The exercises focus primarily on principles that produce change, to provide a connection between the horses, the students, and the activities.  The leader points out that as prey animals, horses have feelings and "issues" in common with abused patients in psychotherapy, namely fear, avoidance, and a hunger for safety.  As victims of, in some cases, horrific forms of abuse, these women are dealing with many issues related to fear, avoidance, and a lack of self-confidence; they have had a pattern of being victimized at home and then victimized again by the legal system that has failed to protect them.  On this day, the ladies had previously learned two of the four principles--- (1) "Love, language, and leadership, in equal doses, produces change" (aka "Therapeutic change best occurs within a caring, supportive, and safe relationship with a skillful clinician"); and (2) "Make the wrong thing hard and the right thing easy" (aka "Therapeutic change is enhanced by recognizing and supporting success").  On this particular morning, they are working on the third, --(3) "Arousal motivates but release teaches" (aka, (3) therapeutic change occurs by maintain arousal at an optimal level to motivate and support change").  All of the women were asked to communicate with the horses to get them to perform a series of what appear to be simple tasks, emphasizing both the previously learned principles of relationship and success and the new one related to controlling pressure and release. 
First, Dr. Beutler demonstrated how to ask the horse to back away from him, starting with a simple "ask" and leading in four phases up to a "tell" depending on how unfocused and/or "resistant" the horse was at a given time.  The women were all surprised to see that after one "tell" (shaking the rope in a swinging motion towards the horse), most of their horses would do it simply from an "ask," or in this case a small wagging of the finger.  Almost instantaneously, the group reflected on their own difficulties in setting, defining, reinforcing, and committing to their own boundaries within their personal lives.  Particularly during the lesson on asking each horse, step-by-step, to back out of and then come into their space (the yo-yo game), women reflected on how easily they submitted to the will of the horse as opposed to asserting their position/boundary.  They slowly came to recognize that a progressive request for action accompanied by maintaining their own personal boundaries (selectively getting "larger" or "more welcoming") produced less resistance to change in others.  Immediately they began to focus on translating what they were learning with the horses to people and situations in their own lives. 
The second exercise was more ambitious in nature; asking the horses to move around the women in a small circle at the end of the rope and jump, or step over two barrels, placed next to the arena fence (the squeeze game)  Quickly learning the skills of directing, motivating, and creating boundaries with where and how they placed or stepped into the horses' space, all of the women who tried were successful.  As horse people, who spend as many waking hours as possible around horses, it is easy to overlook the thrill, beauty, athleticism, and honesty that these animals provide to us in every interaction.  Witnessing the expressions on these women's faces when they succeeded at this exercise was to remember and honor these qualities all over again.  The shift in confidence and self-esteem was palpable.
The two change agents employed in these exercises are carrots and sticks.  Carrots are used for positive reinforcement; representing food, safety, comfort, play, and love.  Sticks are used for direct pressure, contacting the body causing discomfort or used near various zones of the horse's body to drive responses.  The women are taught to give as much pressure as needed to produce a reaction, carried out in four distinct phases.  First suggest the change, next ask for a change, then tell the consequences of not changing (making a promise), and finally carry out the promise before releasing or rewarding the desired response.  The first phase where the desired response is achieved is immediately followed by the release of pressure or reward.  Then comes a discussion of how this principle can be applied to relationships with people. The therapists are clear in explaining that positive and negative reinforcement are neither punishment nor bribery.  The four core principles used in this program are illustrated as one plays the Parelli games, which are then translated to other, more personal situations.  A large portion of the Beutlers' program is to teach strategies for problem solving and planning, utilizing the essential four principles as a foundation.  From principle #1 (relationship) to Principle #4 ("reward the slightest try") the women are taught to observe, identify goals, and plan actions that lead to change in self or others. 
Training horses is an ideal metaphor for all of these strategies and Beutler's program, using horses as a template, teaches a succession of steps towards solving problems.  Horses are pure reflections of our actions and give immediate feedback to both correct and incorrect human behaviors and training techniques, thus offering a unique laboratory to learn how to change self and others. 
Connect with Innerlife STS on Linked-in by clicking on our logo below.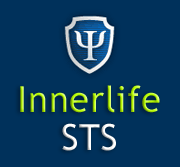 Specifically, the program teaches the women to approach a problem in a structured way.   First, stop or slow the process down in order to truly observe what is happening.  Second, evaluate the facts to determine what risks and what behaviors are being rewarded by release.  Third, stop any automatic repetitions --don't keep doing the same thing-- in order to assess how to change the approach and achieve a more desirable outcome.  Fourth, pick a target of change, and finally, do something different to end the process and assess the outcomes to discover how well the new behavior worked and what changed.  It is easy to see how directly applicable this process would be to produce change in a maladaptive or unhealthy relationship with a family member, partner, co-worker/employer, or friend.  Rather than relying on past ineffective patterns of behavior, the Beutlers teach participants to think their way through each step, and achieve more positive interactions with others.
To facilitate this latter process, toward the end of the session, the women are brought back into a circle to explore the maladaptive or unwanted behaviors they want to change with questions that stimulate self-reflection.  What are the positive consequences that are barriers to change? What is being avoided?  And finally, how is it being avoided?  By processing their recent experiences in the arena with the horses, women are better able to understand and discuss how behavior changes.  Behavior changes in horses when the positive reward that follows the behavior stops, when the thing that is being avoided is confronted or removed, and lastly when the method of avoiding no longer works or is perceived to work.  The group then processes how these exact methods are useful and effective in human interactions and especially for these disempowered women who are coming out of maladaptive and unhealthy relationships. 
Although in its early phases, the Beutler program seems to be transforming lives for the better and the therapists are conducting systematic research to validate their early observations.  At the therapists' suggestions, most of the women keep journals, and they have expressed within their pages, the impact of this program on their lives.  They testify that equine assisted practice and therapy is an ideal place for Parelli concepts to be utilized.  Among the comments of the participants are the following:
"Learning to be a leader has allowed me to have healthy relationships and feel better about myself.  I find myself standing tall when needed without realizing I am standing tall and making myself big yet expressing myself without temper because I have set boundaries, so I am allowing or not allowing people and situations to cross over them."
When I'm not sure of something its okay to be still and wait for knowledge to come back to me.  This also allows if I am upset to cool off before I do something."
When I relapse I can accept that I'm not proud of an undesired action but I can forgive myself and use my energy on recognizing what happened and how to avoid the same mistake in the future."
"I feel hopeful that what I have learned will stay with me. I am truly thankful and I believe a terrible cycle will be broken and my children will both have a mom who will model healthy behaviors."
"….now, I know better. And when one knows better, they can do better and share their real self with the world, allowing gifts to spill forth and give of themselves.  The thorough, patient, loving, nurturing environment and support that Larry, Jamie, and Samarea have shared and taught are life changing."
These passages, written honestly and openly, express the impact and positive lessons Dr. Beutler, Jamie, and Samarea have provided.  Very powerful things are happening for women as a direct result of their relationship with horses and Dr. Beutler's program.  Through the experience of learning these principles based on Parelli Natural Horsemanship methods, in a healing and therapeutic setting, many lives of female victims of domestic abuse are being affected and some have been transformed. 
Note:  The program described is run under the auspices of the Institute for the Study of Equine Assisted Change, a program run jointly by the Center for Violence-Free Relationships (Placerville, CA), Palo Alto University/Pacific Graduate School of Psychology (Palo Alto, CA), and the For Horses Ranch (Placerville).  Dr. Beutler's research on the psychotherapy principles described here can be found in several of  his books, including Principles of Therapeutic Change that Work (with Castonguay and published by Oxford Univesity Press, 2006).
Connect with Innerlife STS on Linked-in by clicking on our logo below.
Innerlife STS is committed to the success of professional clinicians and we invite all professional clinicians to connect with us on Linked-in by clicking on our logo below.